Harding High School
Class Of 1959
In Memory
Charles Carradine VIEW PROFILE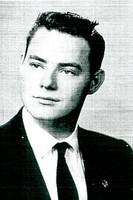 CHARLES CARRADINE
November 17, 1940 - March 13, 2014

Charles served as a member of the Air Force in VietNam. He worked in the computer business and finally moved to Arkansas and began his own computer business. After only one year he had a stroke and had to give up his growing business. Within less than a year he also was diagnosed with inoperable brain cancer. Eventually he was moved to a long-term care home to deal with his severe dementia. Charles passed away March 13, 2014; he was cremated and his remains are at the VA cemetery in Ft Smith, Arkansas.
Survived By: 2 daughters, 4 grandchildren, 2 great grandchildren, 1 sister and ex-brother-in-law (Bill Murray)

Click here to see Charles' last Profile entry.