Harding High School
Class Of 1959
In Memory
Del Ray Williams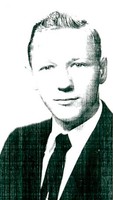 Del Ray Williams July 17, 1941 -- October 12, 2013
The Edmond Sun
Saturday October 26, 3013
DEL RAY WILLIAMS
Del Ray Williams, 72, of Edmond, Oklahoma, passed peacefully from this life on October 12, 2013. A graveside service was October 16, at Pleaseant Hill Cemetery in Edmond.
Del Ray was born July 17, 1941 in Alva, Oklahoma. He graduated from Harding High School in Oklahoma City, Oklahoma and later received his degree in business administration from the University of Central Oklhoma in Edmond. He worked for the First National Bank and First Data in Oklahoma City, and later Texniflex, a computer company,.
Del Ray's hobbies included horses, hunting and fishing. He was a member of the First Christian Curch, Edmond.
Del Ray is survived by his wife Wende of the home; son Del Ray II of Phoenix, Arizona, and daughter Jami of Edmond. He will be missed by his family and many friends for his generosity, intergrity and caring.
The family reuests that memorial donations be made to the American Cancer Societiy.