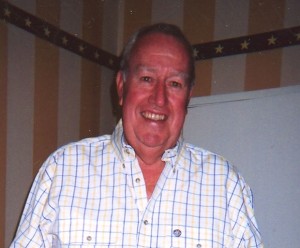 "John's gone fishing"
John passed away peacefully at home on Dec. 12, 2010, after a brief struggle with brain cancer. He was 69.
He was born on Oct. 4, 1941, in Oklahoma City, Okla., to Quinn Corbett Huff and Carmine Lucile (Sexton) Huff. John grew up in Oklahoma City. He attended Harding High School, where he placed third in the state for track during his senior year. He loved his sports and prided himself on his vast sports knowledge. He also played on the Marine Corps basketball team and was a big fan of the Oklahoma Sooners. One of his favorite quotes was, "Sooner born, Sooner bred, and when I die I'll be Sooner dead."
He left Oklahoma in 1960, when he joined the Marines. He was stationed at Camp Pendleton in California. There, he met his wife, Sue, on a blind date arranged by one of his Marine buddies, who happened to be Sue's cousin. They met in 1962 and married in August of 1963. They have two sons: Jeff, born in 1965, and Tim, born in 1967. In 1968, John joined the California Highway Patrol and was sent to Santa Barbara until 1978, when he was transferred to the Napa office. He retired from the Highway Patrol in 1996. He loved his CHP family.
John loved to fish and hunt. He looked forward to his annual Eagle Lake fishing trips with the guys. He also looked forward to his South Dakota pheasant-hunting trips, which God granted him the strength and time to do one last time this past October.
John leaves behind his loving wife of 47 years, Sue; sons, Jeff (Robin) and Tim (Dawn); grandsons, Michael Huff and Riley Huff; granddaughters, Sheena Giovannoni (Joey) and Rachael Huff; brother, Bill Huff (Rodonna); nephews, Nathan and Austin Huff, Matt Caudle and Duane Eye; and niece, Shannon Caudle. Also survived by his sister-in-law, Pat Caudle; brother-in-law, Bill Eye (Rose); mother-in-law, Mickey Freese; his dear aunt Jenny in Houston; Laura Olmstead of Grants Pass, Ore.; and his many dear friends from all around the USA.
He will be missed so very much by all who knew and loved him.
Friends and family are invited to attend a memorial celebration of life on Jan. 8, 2011, 1 p.m. at the Napa Moose Lodge on Browns Valley Road.
In lieu of flowers, please make donations to the UCSF Cancer Center or the Napa Peace Officers Association.